Are you looking for new ways to generate more revenues for your business quickly? Why not create new products or services? Some of your new mini-offers may be the ones that will end up selling like hotcakes and getting you to that next level in your business.
Do you know how to do something specific? Ask yourself, what's your expertise, and what areas of your market would you consider yourself an expert in?
Get specific! Then, ask yourself how to create a mini-offer to help your ICA (Ideal Customer or Community Avatar) generate new revenue.
First, let me tell you that it takes the same energy and effort to market and sell the cheapest to the most expensive item.
WHY?
Because you have to create the product, find a name, create a sales page, decide how people will pay for it, promote it, and all the other steps—it remains the same regardless of the ticket price. But what I love about these mini-offers is that they allow me to reach new customers!
You have different options!
Option #1: Create a mini-course
A mini-course is a condensed version of a long-form course. It contains less material but still packs plenty of value into a small package. I created a mini-course to help my ICA kickstart their online business journey and confirm their business idea! It also gives them a sneak peek of my online program!
Let's search for different topics for you. If you are a social media expert, you can create a mini-course around:
My 3 Secrets to Creating Reels on Instagram
My step-by-step guide to launching your Facebook Group
How to find clients on LinkedIn
But if you are selling products like cupcakes, you may decide to create a mini-course to teach them how to create fantastic birthday cupcakes!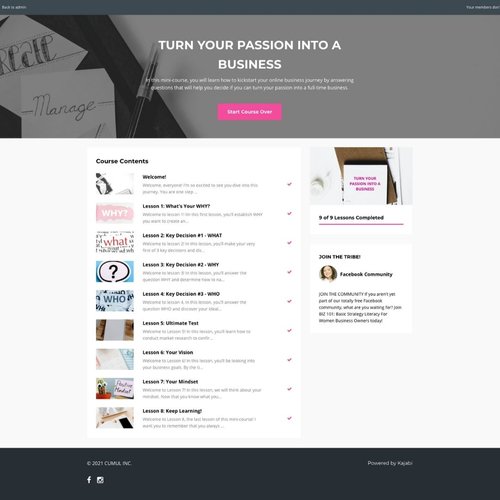 Suggested reading: HOW TO CREATE A MINI COURSE!
Time required: I probably spent 12 hours creating my mini-course – from ideation, product creation, course creation, copywriting, recording, editing, Facebook and Instagram posts, and email marketing sequence. I also ran Facebook Ads to help promote and sell my mini-course.
Option #2: Offer workbooks
You can also decide to offer Workbooks to help your ICA with their pain point to bridge their problem and the solution you offer. One of my workbooks is a Budget template, and my ICA loves to learn how to create their budget!
Let's search for different ideas for your first workbook.
How to build your email list
What you need to prepare awesome cupcakes
How to create a Hashtag strategy for your customers.
You can use Canva to create your Workbooks, it's a FREE tool, and they also provide templates to help you get started.
Suggested reading: I learned how to create tiny offers with Allie Bjerk. If you review her website, you will find a fantastic Masterclass to help you get started.
Time required: 2-3 hours per workbook
Option #3: Host a paid live webinar
If you are ready to do a live session to teach your expertise, let's create a paid live webinar! In other words, live webinar meaning is that these sessions are hosted in real-time, for which your attendees have to pay a certain fee to view your content.
Let's decide which topic you can pick for your webinar!
How to create Reels to promote your business on Instagram
How to create a website that sells
Become the Cupcake Queen!
You can use different apps (Vimeo) for your webinar, but you can also decide to use Facebook or Zoom and keep it simple for the first one!
Time required: 2-3 hours to prepare your presentation + 1-2 hours for your live webinar
Ready to create something different this month to generate more revenue? Just show up and do crazy new things!
What about you? Comment below; I'd love to know what you will create to generate more revenue this month!
xox